Text in English. L'Artisan Pastellier, history and life of the enterprise. Soft pastels, oil pastels, vegetable inks, calligraphy inks, extra-fine water colors, pigments,… Woad, vegetable dies. Ecological paints.
The blog "ici Graulhet" presents L'ARTISAN PASTELLIER
Text from the blog "ici Graulhet" : http://zlatovyek.wordpress.com/2009/05/27/lartisan-pastellier/
A few months ago, we had met l'Artisan Pastellier Didier Boinnard at his small production plant in Graulhet during the filming of a TV program on his product. Photos from that visit were uploaded on the blog.
Following yesterday's announcement of a new artistic federation in the region, it seems like a good idea to put out a reminder concerning these fine products, produced right here in Graulhet at 7, rue Arago.
Created in 1999, L'Artisan Pastellier occupies a specific production niche: the manufacture from natural vegetable and mineral sources of quality coloring materials for artists and decorators. He also produces a line of environment-friendly house paints.
Woad was the signature product of this region (known in France as 'le pays de cocagne' in reference to the round pellets of woad that were the source of large merchant fortunes at one time). L'Artisan Pastellier has chosen this blue vegetable dye as his main product.
He also produces soft pastels and oil pastels, sealing waxes, quality water colors, writing inks, calligraphy inks and various natural pigments.
His water-based house paints are particularly well suited for decorating a child's room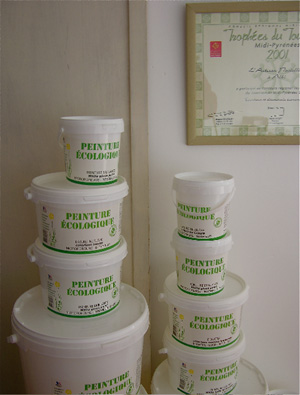 Interested in one of these products? :
You can order directly from artisanpastellier.com or you may visit his shop at 7, rue Arago in Graulhet (05 63 42 12 23), or the store in Old Albi, at 5 rue Pech Bérenguier (tel: 05 63 38 59 18.)